La suite des infos de Jason
Dear Friends,
It is my honor and pleasure to announce our current and future plans for the modern IL-2 Sturmovik Series. As you know we have released Battle of Stalingrad and Battle of Moscow and now we are ready to announce - THE BATTLE OF KUBAN! In addition to creating the Battle of Kuban we will be adding several new technologies, gameplay modes and community centered features to the Sturmovik series that will setup future titles based in the Pacific theater. We see the further development of the Sturmovik series as a marathon and not a sprint. We hope you will continue to support us and cheer us on the entire way as we make, what we consider to be, our shared vision a reality. More on our bigger vision further below.
To produce Battle of Kuban we have adopted a sixteen (16) month development plan that will culminate with its final release in December 2017. The plan is packed with new features, improvements, changes and new content. Battle of Kuban (BOK) will be available for Pre-Order in the coming weeks with a discounted price for early purchasers. An early-access program will also be available for pre-order purchasers as we have done in the past. You will not have to wait long to start experiencing new content and further improvements to the Sturmovik universe.
The Battle of Kuban provides a unique opportunity for us as a development team and for you as a customer. The Kuban theater offers some beautiful and varied scenery and interesting aircraft including Western Lend-Lease designs that played an important role not only the Kuban area, but all across the Eastern Front. The Kuban also helps the development team by providing an ocean environment for larger ships and other watercraft to do battle which will help prepare us for our eventual move to the Pacific theater.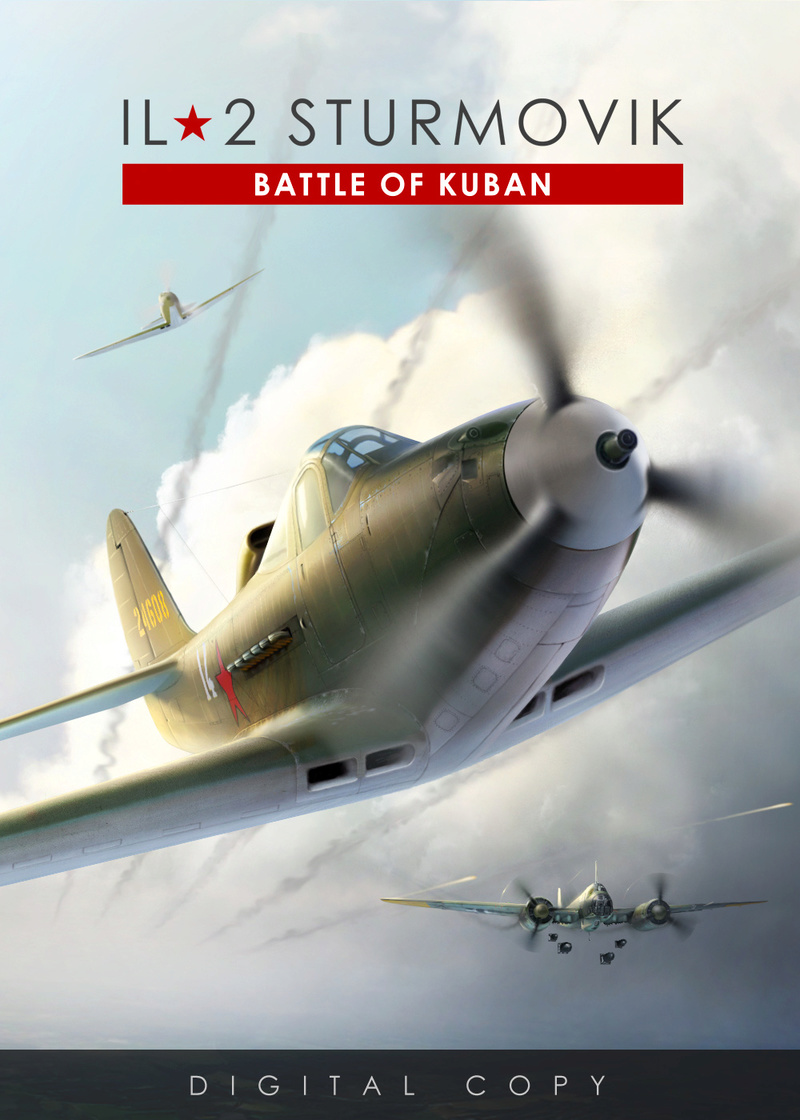 Announcing Battle of Kuban and Development Plan!
Now that the announcement is out I will try to comment on different areas of concern or make other general comments to give context to our plan.
Decision Context:
First, let me just say that we gave this decision to make Kuban a lot of thought and you must remember that our team does not have the resources to do parallel development. We have to make one product at a time. This is sad, but true. So, we were forced to develop a plan that can:
1. Improve the core product (engine, technology) and add in new, missing or wanted features.
2. Develop content that can bridge the gap between East and West and push us towards a future Pacific title.
We think this plan accomplished that and puts our IL-2 back into the domain of the original IL-2 which so many still love.
This plan can take us outward for almost 5 years. Then we can make more content to take us out to 10 years. The original IL-2 is still relevant in the genre so we hope to also make our IL-2 relevant for a long time as well. Assuming the man-machine singularity hasn't happened by that point.
ROF:
We also still love ROF and I hope at some point we can bring ROF to the new engine and re-release it as a new title with some more planes. I just don't have a way to do that yet and can't make any sort of promise. ROF players will probably be mad at me, but ROF is still an AMAZING sim and in some ways is still better than the current IL-2. I'll keep trying.
Market Support:
I feel like I am back in 2010 trying to keep Rise of Flight alive. It's 2016 and the same damn challenges remain before us as a team. The same question still haunts me - Can the market support a hardcore flight-sim? Yes it can, but it's not easy. I know the market for this kind of simulation is still big enough to ensure future titles, but we need everyone who is even remotely interested to buy in. If everyone who initially bought into BOS bought into BOK direct from on our website over the next couple months we'd be fine and guarantee another product will come. But there has been some decline in customers willing to make a purchase or they wait for Steam sales. I'm sure I know why, but now with our new plan we hope that interest will pick up and more direct purchases will come. A direct purchase from us now, helps us much more than a Steam purchase later. Steam takes a huge chunk of the money and the net revenue is no where near as much if you buy direct from us. Steam is great for pumping up numbers of players, but direct purchases has the most immediate impact and sustains us.
Bottom line is that we need your continued business and financial support for us to make our entire plan or more become a reality. If I sound desperate or like a beggar I don't care. A big part of your hobby is at risk and will continue to be at risk for a long time without your support. We can't change the past. All we can do now is try to give you a combat-sim product you asked for and will love. Please help spread the word and if you can afford to buy in please do so.
And we appreciate ALL our past, current and future customers and we will continue to fight on as we always do.
Stuff we'd like to make eventually but not in plan maybe future products:
There are several things we'd like to make that are not in the plan as of now. We always have to make tough choices, but if we can be more successful we can maybe find a way. Some examples.
1. Female Soviet Pilot Model.
2. Re-vamp of GUI t0 be more thematic.
3. Hyperlobby-like interface for COOP Mode.
4. Italian Radio Chatter. (possible with sound mod)
5. Deep dive into AI decision making.
Some answers to questions we've received:
1. Do you plan to do external jettisonable fuel tanks?
We hope to, but we do not know when and this is part of engineers domain. Right now they focus on more urgent matters.
2. Do you plan to do new Collector planes in the process of BOK development?
No, the plan is full, but after BOK work is done, I hope to add a couple more before we go to tropical Pacific paradise. But only possible if we finish work early and can squeeze in.
3. Can you explain in more detail about the Re-vamped Triple Monitor Support?
Just can say hope to make it proper instead of crop screen like we do now. This could be hard hit on framerate, but Lead Programmer has this task in his schedule. Maybe DX11 gives a performance boost to manage 3 renderers at once to draw environment.
4. When do you open the pre-order?
Soon, within next couple weeks, maybe sooner.
5. Can you explain in more detail about Air Marshall and Field Marshall modes for MP? Will it be available only in multiplayer?
It is indeed an MP only feature. It is so the battles can be more closely managed and have some organization which I think will boost MP participation. Part of the problem of current MP is too many lone wolves, not enough squad action and too hard to find targets without labels on. Also, there is no human air traffic control, no human GCI, no new vectors given to players once in air, no recon reports to paint a picture of the battle like in real life. There are some really talented community members with real life military comms experience that could make MP battles much more fun by giving orders to squads of planes or tanks. The information given to the Marshall will be based on real-life limitations like visual ranges etc. This will not be a screen with massive amounts of information. For instance, if recon unit destroyed, Marshall loses that info. Having a good Marshall on your team is another factor that can lead to victory. And the Marshall screen will be optional for server operators. I think it will be popular though. I'll try to explain it in better detail a little later on.
6. When you can show us new BOK map?
Not for a few months I am sure. WIP.
7. Do you plan to do hydroplanes?
Not right now, but obviously Kuban and Pacific are great places to use them. I have to discuss with Han on any possibilities that could make it a reality before the Pacific. It was a lot of work to do it in ROF and I'm sure a lot of work for BOS/M/K.
8. When you make DX11 do you plan to support Oculus Rift?
Yes we need DX11 before we can support VR properly (Rift, Vive). Won't probably be ready for a few months more though. DX11 tech new for us so we are just now learning about the possibilities.
9. Do you plan to do lighting bombs?
You mean flash bombs or flares? No sure I understand completely.
10. Do you plan to do new player controlled tanks?
No new player controlled tanks in the plan. Maybe we will add a commander position to existing tanks. Tank experiment not hugely popular feature. Maybe with more tanks it would be, but no money or time to build more tanks.
More comments to come...